Thinking Outside the Box – Local SEO & Podcasting Tips
David Bain will be speaking about "How to be a great podcast guest".  David (@DavidBain on Twitter) has a lot of experience in the SEO scene, having managed in-house and agency-side SEO teams for the likes of Greenlight, MEC and Farfetch. However, over the past few years he's moved on to digital marketing course production and hosting podcasts and webinars – including hosting SEMRush's new show, "Search Marketing Scoop".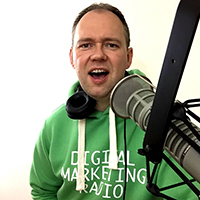 David is also currently Head of Digital Marketing Course for AVADO, the company behind the Squared Online course with Google as well as being Founder and Host of Digital Marketing Radio, the podcast and live video show where he's already interviewed over 200 digital marketing experts including Rand Fishkin, Aleyda Solis and Larry Kim. Check out the latest episodes over at www.digitalmarketingradio.com.
More details of the event will be announced over the next couple of days and we ask everyone to RSVP on Eventbrite.