Paid Media and Schema MarkUp Tips To Implement Today
Hello everyone,
We hope you are having a good summer.
Our next Search London event will be at the Doggett's Coat and Badge, 1 Blackfriar's Bridge. We have the Terrace Bar (summer is not over yet) on Monday, September 11th from 6:30pm.
We have a great line up, one of our speakers runs his own business in La France.  
Almost 2 decades of experience: Jason Barnard started promoting his first website in the year Google was incorporated and built it up to become one of the top 10,000 most visited sites in the world.
Today Jason is a search marketing consultant and working on two SaaS: Kalicube.pro (an online Brand building service) and Kalicup.com (quick and easy SEO wins for small businesses). Jason will be talking about
"How To Implement Schema Markup Today and The Knowledge Graph of the Future"
Far from being marginal, intelligent use of Schema Markup for your Company is the cornerstone to your entire Search Marketing future. Jason will tell you why, and how to get it right… off the bat ! Jason will give you practical advice and tips on how to implement Schema mark up for you business, big or small.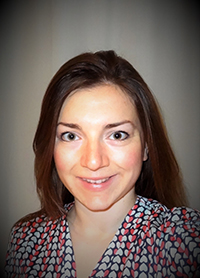 We also have, Rumyana Miteva, Head of Search at Secret Escapes speaking at Search London.
Rumyana has a deep understanding of the current Paid and Organic search ecosystem, especially in the Travel sector. With more than 7 years of experience in Digital Marketing, she has worked for various international brands and managed a portfolio of over a billion keywords. Rumyana was a judge at the 1st UK Biddable Media Awards in 2017 and is a regular conference speaker, presenting at SMX, Hero Conf, IAB Search to name a few.
Rumyana will be speaking about "Creating paid search ads that stand out and how best to optimise them"

Paid Search is ultra competitive, find out how to boost your CTR and get better ad rank with taking advantage of AdWords & Bing ad extensions. Did you know that there more than 12 different types? We will also talk about ad copy testing and how to optimise your ads to the max.

We are lucky to have three speakers at our September meetup:
Bobbi is a Campaign Manager at Kaizen focusing on a diverse range of brands. She is passionate about finding data and turning it into unique outreach campaigns.

Bobbi will be presenting: "Get Top Tier Coverage for a Unknown Brand with No Money"
"Bobbi will share her personal experience from when she worked in-house to show how client side and agencies can still generate great links and coverage even when they have no budget. And yes this is also for unknown brands. Bobbi will show us how free tools and data sources can generate top tier coverage. Everyone says attitude is important at work and with outreach it is even more so."

RSVP for the next meetup on Eventbrite
Buy your ticet to reserve your place to our next Search London meetup.
See you there
Jo Turnbull and Tim Sheed