How Rank Tracking & Machine Learning is changing the future of SEO.
Hi everyone,
I am excited to announce we have our next meetup on:
Tuesday, April 18th from 6:30 pm (right after Easter)
At:
Doggett's Coat and Badge, 1 Blackfriars Bridge, SE1 9UD
I am excited to announce Chris Green, from Strategiq will be speaking about "What is rank tracking and do we even recognise it anymore?"
Chris started his digital career writing copy for directories and tinkering with websites in his spare time, at some point over the last decade this became his day job and now he heads up the marketing delivery team at StrategiQ.

Chris Green will talk about "What is rank tracking and do we even recognise it anymore?
SEOs are pretty addicted to rank tracking, but we could be using it wrongly. Many are still rank tracking as if it was 2012, but what good is this doing us? Chris and his team tracked 500,000+ results in SERPs as part of hourly tracking tests and it builds a very different picture of SERPs. 
What could this mean for the future of rank tracking? Chris will share some of the early data from the experiment and suggests some more productive uses for rank tracking in the future."
Marcin Chirowski, the Global Head of SEO at EF English Live will be speaking about "How Machine Learning is changing SEO"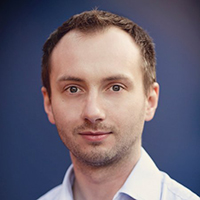 Marcin is a SEO Expert with 9+ years of SEO know-how & successful track record. He focuses on growing revenue from organic search marketing. He has worked with UK based brands such as The Independent News & Media, Ladbrokes, Kaplan (Washington Post Group) and EF Education First. 
Google updates its search engine algorithms at a lighting speed. An introduction of Machine Learning made SEO rules changed forever. In this talk, Marcin will break down the recent revolutionarily changes in Google algo to help the SEO community stay competitive.
With two fantastic speakers, how can you afford to miss this? Reserve your place by getting your ticket on Eventbrite.
Look forward to seeing you on the 18th!
Thanks,
Jo and Tim